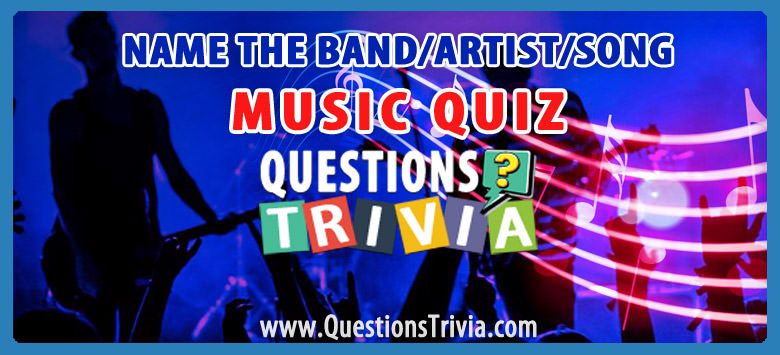 Do you think you know everything about music? Challenge yourself or play with friends! Test your knowledge with this 30-question music quiz!
1. This band was formed in Oslo, Norway in 1982. They released their debut album that peaked at number one in Norway and number 15 in the U.S. The single «Take on Me,» peaked at number one internationally. Name the band.
2. This new-wave band was formed by two college friends in Bath, England. Their first hit was a cover of a Burt Bacharach song «Always Something there to Remind Me» and the second hit was an original called «Promises, Promises.» The band is
3. «I Know What Boys Like» was released in 1982. It was rated one of the greatest one-hit wonders of all-time. Who wrote this song?
Chris Butler of Tin Huey.
4. «I Think We're Alone Now» was written by Ritchie Cordell and performed by recording artists Tommy James and the Shondells. It became a top single in the 1980s, reaching number 1 in the U.S. when it was covered by this female singer who gained popularity by performing in shopping malls. The artist is
5. Much of the content that became the basis of the song «Valley Girl» was contributed by Frank Zappa's daughter who was 14 and familiar with Valley Girl jargon and activities. Name the daughter.
6. This song is Stevie Wonder's greatest hit. It has topped 19 charts, and it was released as the lead single for the album «The Woman in Red.»
I Just Called to Say I Love You.
7. According to the band B-52's, this song that became their signature tune and biggest party hit was inspired by an Atlanta disco that showed videos of puppies and marine animals instead of a light show. Name this tune.
8. She won Best New Artist at the 1985 Grammy Awards. She released the following albums in the 80s: «She's so Unusual,» «True Colors» and «A Night to Remember.» She said «Girls Just Wanna Have Fun,» and she did as her career continued to grow.
9. Gordon Matthew Thomas Sumner is an English singer, songwriter, and actor. He was in the new wave rock band The Police before going solo in 1985. What was his more famous name?
10. Bruce Springsteen was the lead singer and major songwriter of the E Street Band. Nicknamed «The Boss,» his career remained strong through the 80s and 2000s, but this 1984 hit song is synonymous with his name to this day.
11. Michael Jackson was known as the King of Pop. He had multiple hits throughout his career, but which song went straight to number one on the Billboard 100 Singles Chart in 1995?
12. Natalie Merchant released her «Tigerlily» album in the 1990s. The album included three songs that became commercial hits. What band was Merchant part of before her successful solo career?
13. «Jagged Little Pill» was actually the third album by this artist but the first that was released internationally. The album included hits such as «Ironic,»and»Hand in My Pocket.» This Canadian artist is
14. This song by Roxette was on the Billboard Top 40 for 17 weeks. It was also on the soundtrack for the Julia Roberts movie «Pretty Woman»?
15. Total Eclipse of the Heart» was a smash hit in 1994 by Nicki French. However, songwriter Jim Steinman first gave the song to another singer to perform but this singer's record company refused to pay. Who was this singer?
16. These lines are from Madonna's 1990 hit: «All you need is your own imagination/ So use it that's what it's for.» Name the song.
17. These albums were released in the 90s by a Seattle-based rock band whose lead singer died of an overdose: «Bleach,»« Nevermind,»«In Utero.» Who was the singer?
18. These bands came from the same U.S. city: Nirvana, Pearl Jam, Soundgarden, and Screaming Trees, Alice-n-Chains and Candlebox. Name the city.
19. The original name of this band was Sweet Children. The band included Billie Joe Armstrong, Mike Dirnt and Tre Cool. They released a 90s album called «Dookie.» Name the band.
20. This horror musical short film starred Michael Jackson. It was co-written by horror writer Stephen King and Mick Garris. It was also released with limited editions of the film «Thinner.» Name the movie.
Michael Jackson's Ghosts.
21. David Robert Jones is one of the most influential musicians of our time. The last album he released, shortly before his death in 2016, was «Blackstar.» Name this music icon.
22. Justin Bieber was discovered through his Youtube covers of pop songs. He has released four studio albums and completed four world tours before turning 23. Name the last album and world tour.
23. «Lemonade» is Beyonce's sixth solo album. It was released to much hype in 2016. Name the lead single that she performed at Superbowl 50, which elicited dueling hashtags for and against the Black-Panther-themed performance.
24. Her last album «25» debuted at number one in 32 countries and went on win several industry awards, including bestselling album of the year. Earlier albums include «19» and «21.» She is due to release «29» soon. Album titles correspond to her age during production. Name the artist.
25. This British band released «A Head Full of Dreams,» a docu-film based on actual footages, to celebrate 20 years of performances. The world tour of the same name became the third highest-grossing tour in 2017. Name the band.
26. U2's music has evolved over the years and after 14 studio albums. The 14th album was based on a collection of letters written by Bono to people and places dearest to his heart. Name the album.
27. This pop artist has worn many hats, including singer, songwriter and award-winning actress for a role on «American Horror Story.» She is adding to her trophy collection with her role in «A Star is Born.» Name the artist.
28. «Nothing Breaks Like a Heart» is a song from British musician Mark Ronson which will be the lead single for his fifth studio album «Late Night Feelings.» Name the American singer who performed this Ronson production.
29. Kendrick Lamar is the first rapper to be awarded a Pulitzer Prize for music. It is also the first non-classical or jazz music to win a Pulitzer. Name the song
30. The band Coldplay released new music in collaboration with artists, including Stormzy, Wizkid, Cassper Nyovest, David Guetta, Stargate, Jozzy and Pharrell Williams to benefit Global Citizen. It was released under a different band name. What was the new band name.